Small Animal Surgery
At Scott County Animal Hospital, we routinely perform elective and emergency soft tissue surgery as well as selected orthopedic surgeries. We pride ourselves on excellent presurgical and postsurgical care, emphasizing pain management and patient monitoring.

We strongly recommend presurgical blood work for every patient, regardless of age or health status. We use the results of these tests to select the safest and most effective anesthetic drug protocol for your pet. Even young animals may have undetected abnormalities. Problems such as liver or kidney disease may cause us to delay elective surgery, or use different anesthetic drugs. Elevated white cell count indicates infection, which may cause us to postpone surgery. Low red cell or platelet counts may cause excessive bleeding during or after surgery. Our goal is to make surgery as safe as possible for your pet, and if we feel that a delay is necessary, we will contact you. Emergency surgery cannot be delayed, of course, but we will make appropriate drug choices to make the surgery as safe as possible for your pet.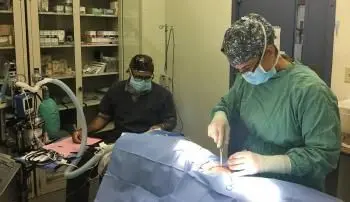 Throughout anesthesia, your pet will be monitored carefully using state-of-the-art equipment. We monitor heart rate, respiratory rate, temperature, blood pressure, and blood oxygen levels throughout anesthesia. These are the same monitors used in human surgery! These monitors allow us to detect problems very early. All pets also have an intravenous catheter placed and receive intravenous fluids during surgery, allowing us to maintain blood pressure and give emergency drugs quickly should a problem develop.

All pets undergoing surgery at Scott County Animal Hospital have a pain management protocol developed for them, taking into account the type of surgery, any medical problems or blood work abnormalities, and current medications (if any). Pets receive a combination of presurgical medication, pain medication during surgery, and post-surgical pain medication. Our goal is to prevent pain from developing, and to quickly stop any pain which does develop. We want your pet to be as comfortable as possible throughout the procedure.

If your pet is going to have surgery at our hospital, please be sure to read our presurgical information form, and call us if you have any questions at all. Our staff is ready to answer any questions you may have about surgery.