Welcome Dr. Emily Harold!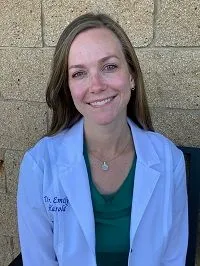 Dr Emily Harold joined our practice in September 2021, bringing with her 10 years of experience in small animal practice. She is an Iowa native who enjoys all aspects of veterinary medicine, but especially dermatology and preventive medicine. We are very glad to have her join our team here, and she looks forward to meeting all of our clients and patients.

---
Scott County Animal Hospital Achieves Re-accreditation
We did it again! On May 8, 2020, we successfully passed our re-accreditation evaluation with the American Animal Hospital Association. This process involved extensive review of our hospital protocols, practices, equipment, staff education and client service. We are pleased to continue to be the only veterinary hospital in Eldridge which is AAHA-accredited. We believe our commitment to maintaining our AAHA accreditation is a testimony to our belief in providing the best in veterinary care to all of our patients. Less than 15% of veterinary hospitals in the US and Canada are AAHA-accredited, which puts us in an elite group!
Please ask any of our staff members what being an AAHA-accredited practice means to them! Stop by and experience the difference.

---
Scott County Animal Hospital Achieves High Level of Veterinary Excellence
Eldridge, IA—Scott County Animal Hospital, pc has achieved the highest level of veterinary excellence on April 12, 2018 following a thorough evaluation by the American Animal Hospital Association (AAHA). Scott County Animal Hospital earned AAHA accreditation after a rigorous review of the hospital's practice protocols, medical equipment, facility and client service.
Unlike human hospitals, not all animal hospitals are required to be accredited.
Accredited hospitals are the only hospitals that choose to be evaluated on approximately 900 quality standards that go above and beyond basic state regulations, ranging from patient care and pain management to staff training and advanced diagnostic services. AAHA-accredited hospitals are recognized among the finest in the industry, and are consistently at the forefront of advanced veterinary medicine. AAHA standards are continuously reviewed and updated to keep accredited practices on the cutting edge of veterinary excellence.
Pet owners look for AAHA-accredited hospitals because they value their pet's health and trust the consistent, expert care provided by the entire health care team. At AAHA-accredited practices, pet owners can expect to receive the highest quality care from well-trained, professional veterinary teams.
Only the top small animal hospitals in the United States and Canada have achieved accreditation by the Association. To maintain accredited status, Scott County Animal Hospital must continue to be evaluated regularly by AAHA.
Scott County Animal Hospital has been practicing high-quality medicine at the same location in Eldridge, IA since 1976. Over the years, the practice has transitioned from a mixed-animal practice to 100% small animal practice. Throughout that time, their focus has been on top-quality state-of-the art medicine and surgery, client education, and preventative medicine. The hospital is fully-staffed with veterinarians available for appointments every weekday, Saturday mornings, and Wednesday evenings.
For more information about accreditation, visit aaha.org/petowner, or connect on Facebook and "like" the American Animal Hospital Association.
---
New Hospital Hours
Effective today - February 29, 2016 - our hospital will no longer be open late on Monday evenings. We will now close at 5:30pm on Monday, Tuesday, Thursday and Friday. We will continue to hold late hours until 7:00pm on Wednesdays only.
---