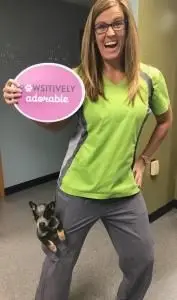 At Scott County Animal Hospital we pride ourselves in providing excellent education for owners of puppies and kittens. At each visit, you will receive extensive information and handouts from our technicians and doctors to help you in raising a happy, healthy puppy or kitten. We provide information about behavior, training, housebreaking, feeding and nutrition, vaccinations and parasites. We will review the spay and neuter procedures and give you a tour of the clinic.
Throughout the series of puppy and kitten visits, we will answer any questions you may have, and help you deal with any problems that may crop up.
At each visit, your puppy or kitten will be examined by a doctor to ensure that it is growing and developing properly. Your new pet will then receive any necessary vaccinations and deworming. We begin vaccinations as early as your pet's immune system is ready for them. The vaccinations your pet will receive is determined by his or her exposure to risk factors.
Be sure to bring your new pet to see us as soon as possible, so that we can make sure he or she starts on the road to good health!