Laser Therapy for Dogs and Cats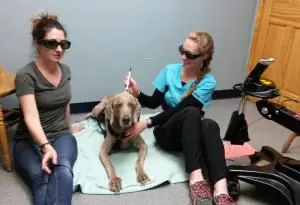 Scott County Animal Hospital believes strongly in providing top-quality care for all pets. As part of this, we are pleased to offer state-of-the-art Class 4 laser therapy for management of acute and chronic pain conditions. Our K-Laser therapy laser provides a drug-free alternative method for pain relief in animals with conditions such as arthritis, intervertebral disc disease, chronic back pain, muscle trauma or sprains, and injuries. The laser can also be used for inflammation, such as is seen in ear infections, skin infections, and allergy. We have had success in treating chronic conditions such as lick granulomas with the therapy laser - conditions which rarely respond to other treatments.
We also use our therapeutic laser for post-operative treatment of incisions after surgery to reduce pain and swelling. Laser has been used for dental disease in cats such as stomatitis, which is difficult to treat with medications alone.
A laser treatment can be performed in less than 5 minutes, in many cases, and will have lasting effects after you and your pet leave the hospital. Repeated treatments are necessary for chronic conditions, but can reduce the need for medications such as arthritis drugs, and can improve the quality of life for many older pets.
Ask us about laser therapy today!
For more information about laser therapy, see the K-laser pet owner website.