Proper routine dental care is essential for good oral health for all pets. A healthy mouth allows pets to eat properly and retain their teeth for a lifetime. Preventing dental problems also prevents the spread of bacteria from the mouth to other internal organs, such as the heart valves, liver, and kidneys. For pets, dental health is not just about cosmesis - it's about good internal health.

We perform an oral examination at every annual wellness visit to detect dental problems. At that time, we will recommend an ultrasonic dental cleaning and polishing if it is warranted. We also instruct owners in proper tooth brushing techniques, and use of other oral health products for those who cannot brush their pet's teeth.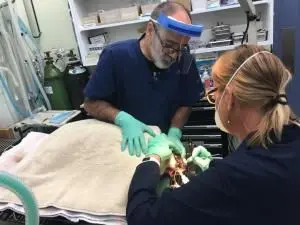 Unfortunately, dental disease is one of the most common health problems in pets, affecting about 68% of pets over the age of 2. As pets age, this becomes more common. Proper home dental care, and professional dental cleaning when necessary, will protect your pet's overall health for a lifetime.
Click here to watch a very informative video about dental health in dogs from Dr. Oz, the well-known television personality.